And here I thought I would be safe, but the lovely, aka mean, aka, still love you, Fae Eriksen from Fishy Strawberry has sent her challenge through facebook.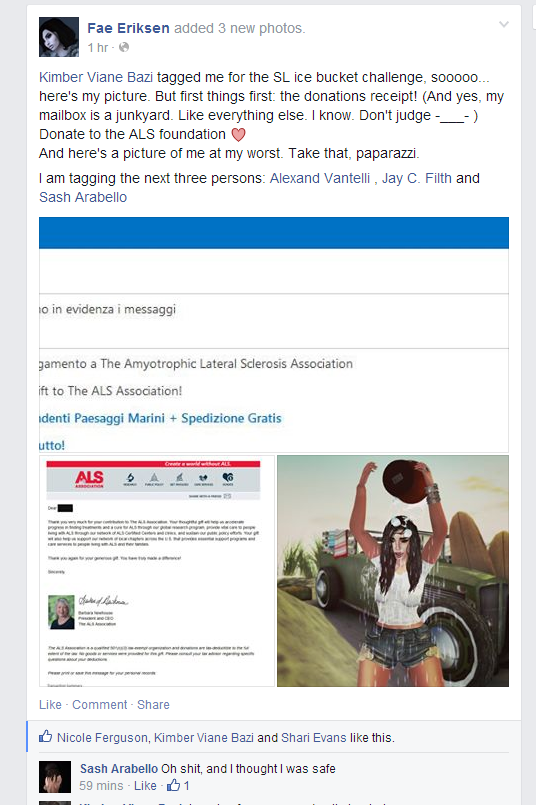 So, I had to rush, because.. well, damn her. I was all comfy in bed, taking a break before the hell of building and texturing starts, and I get that. Might as well do it tonight before I forget and it goes in the back burner.
Now I get to nominate some people. BWAHAHAHA. Okay, I'm going to do two sets of nominations because one is a list of people I would love to see do it because I think they would make an awesome picture. The other is a list of people that have to do it because I'm mean. So.. here it is.
PEOPLE THAT MUST DO THE BUCKET CHALLENGE:
I challenge Sienia Trevellion, Andel Rhiadra, and Tea Soup. I WANT TO SEE PICTURES WITH BUCKETS OF ICE AND WATER, LADIES.
Now, the second set is people that I really would enjoy to see doing it, but I don't know if they would, or even if they would hear about my challenge to them. So I'm going to put here Strawberry Singh, Kaelyn Alecto and Sylvia Olivier with her lovely family.
I know it's a big list! But I'm going to be donating a large portion of my cash out when it comes in to ALS, so I guess that makes up for it. I did the picture, and the donation. So! That gives me a chance to double nominate, right? Right?! I dont' care. It's my life, I do what I want. I'm a rebel like that.
For more information about this illness, and to find out how to donate, please visit: http://www.alsa.org/
To get a bucket in world, visit:
http://maps.secondlife.com/secondlife/Iced%20Gems/232/127/22
Credits:
Hair:
*ARGRACE* HIKARI - Cocoa [S] by Rika Oyen
Skin:
Lara Hurley-Fae Milky Fatpack by Lara Hurley
Bathing suit:
*BOOM* Ariara Bikini by
Aranel Ah
Hands and feet: Slink Medium feet and
Slink Avatar Enhancement Hands - Fist by Siddean Munro
Pose: Exposeur - Little Hearts 5 by
Rubystarlight Writer